Zambia Circular Economy Study explores the opportunities for SMEs in Zambia to make use of waste materials and products and develop a more circular economy in Zambia. The study identifies ten commercial opportunities in the areas of Municipal Solid Waste management,...
read more
Ubuntu Talks wishes to extend an invitation to attend the upcoming Symposium. Ubuntu Talks envisions a world where everyone can easily learn sub-Saharan African languages. Our customized virtual learning platforms rely on technology platforms to facilitate global...
read more
Live2Lead is a leadership program that strives to strengthen Zambia's leaders in all sectors of society— government, business, and civil society. 14 00hrs Wednesday, 22nd February, 2023Mulungushi International Conference Center (MICC) Lusaka, Zambia. Live2Lead is a...
read more
On behalf of the Zambian Government and the European Union, we are pleased to invite you to a Zambia-EU Pharmaceutical Manufacturing Forum that will take place on 1-3 March 2023 in Lusaka, Zambia, in Mulunghushi Center. Attached you will find an official invitation by...
read more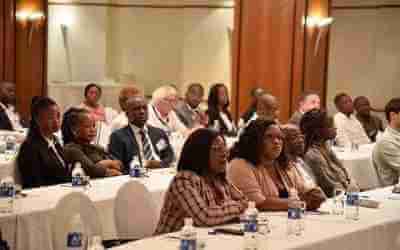 EUZBC Compliance MattersThe European Union- Zambia Business Club (EUZBC) was pleased to host the last event of the year, "EUZBC Compliance Matters" that was held on November, 24 th 2022 at Taj Pamodzi Hotel. The event was aimed at discussing the recent tax...
read more
The European Union- Zambia Business Club (EUZBC) was pleased to host The Year-In-Review "New Dawn One Year Later – What was promised, what has been achieved and what needs to be done?" held on September 7th 2022. The event was aimed at reviewing the business environment in the country since the new Zambian Government came into office in August 2021. It was also an opportunity for key Government Ministries to share insights on possible policy and regulatory measures that will be prioritised in the next budget cycle.
Ninety (90) participants attended, including members of the EUZBC, representatives of Foreign Embassies and High Commissions present in Zambia, and representatives from the Ministry of Commerce Trade and Industry and the Ministry of Finance and National Planning.
read more
The European Union-Zambia Business Club (EUZBC) held a Meet and Greet cocktail event on May 17th, 2022 at the Lusaka National Museum, taking the opportunity to view the exhibition "Building an Art Bridge between Zambia and Italy". The event was held under the theme, "Promoting Business through Partnership and Engagement".
This prelude event to the EU–Zambia Economic Forum 2022 aimed to give an opportunity for EUZBC members to engage with key officials from the Zambian Government in the run-up to the main business forum.
read more