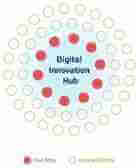 Are you aware that digitalization and innovation are today's fields of opportunity we cannot miss no matter in what part of the world we stand?
Are you a technology, innovation, entrepreneurship, economic or business development player in your region?
Are you passionate about developing and strengthening your local innovation ecosystem and support local companies in their digital transformation?
Do you work or research in Climate Smart Agriculture, Smart Cities or Digital Trade? Or do you have an expertise in digital technologies that can be applied in these areas?
Then you might be an excellent candidate to set up a Digital Innovation Hub!
What is a Digital Innovation Hub?
A coordinated group of organisations with complementary expertise and public-benefit objective, offering a set of services and activities to companies to support their digital transformation and innovation through a one-stop shop.
Four Service Areas of a DIH
What is AEDIB|NET?
The African European Digital Innovation Bridge (AEDIB|NET) is a project funded by the European Commission under Horizon 2020 that brings together the collective strength of 13 consortia members to strengthen the African innovation ecosystem. AEDIB|NET will establish three (3) Digital Innovation Hubs in the areas of Climate Smart Agriculture, Smart Cities and Digital Trade. The total project duration is thirty three months.
What support will a DIH receive?
Under the AEDIB|NET project, a DIH will receive financial and in-kind support to set up structures and processes.
Additionally, dedicated capacity development measure will equip the DIH operators with the required skills and knowledge as well as mentoring during the pilot phase. Lastly, there will be extensive opportunities for a DIH to network within Africa and with European counterparts as well as participation and exposure at high-level policy dialogues
This project has received funding from the European Union's Horizon 2020 research and innovation programme under grant agreement Nr. 101017105